Aquaurethane Extreme is a revolutionary fast set, quick drying spray applied polyurea that has been specially formulated to meet the stringent regulations required for fresh, treated and potable water storage reservoirs.
Aquaurethane Extreme has been specially formulated by our team of chemists to meet/exceed the requirements of both UK WRAS approval as well as Regulation 31, of the Water Supply (Water Quality) Regulations, the UK's most stringent and highest standard for water containment.
Aquaurethane Extreme contains NO CFC's, NO VOC's and NO SOLVENTS and is 100% solids. It is also touch dry in 5 to 7 seconds making it easy and quick to apply.
It is professionally applied by trained applicators using specialist high pressure plural component application equipment. The speed and ease of application allows large surface areas to be coated in a very short time allowing fast return to service.
Tank/Underground Reservoir Lining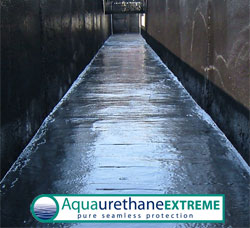 Aquaurethane Extreme has been designed to refurbish the inside of fresh, treated and potable water storage tanks and reservoirs that have become porous over the years thus losing valuable water supplies because of leaks and seepage. As it is spray applied we are able to create a seamless monolithic membrane thus preventing water loss from the containment area into the surrounding structural walls and out into the surrounding land. Its excellent elasticity allows the membrane to expand and contract with the concrete and can withstand significant crack growth.
Pipe Lining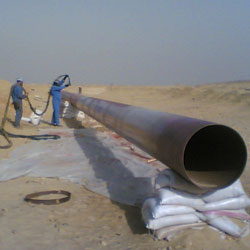 By using specialist application equipment, Aquaurethane Extreme can be applied to the inside of pipes used to carry the water from the reservoirs to the end user providing a seamless lining that helps prevent seepage and leaks from the pipes as well as sealing the joints.
External Tank Coating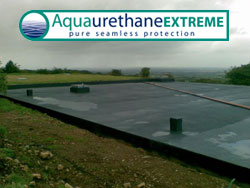 Aquaurethane Extreme has also been applied on various projects as an external waterproofing membrane for potable water structures including underground reservoirs. By coating the external roofs, Aquaurethane Extreme prevents contaminants and pollutants penetrating the roof and contaminating the treated water and stored water.
Advantages:
Meets the requirements of both UK WRAS approval and Regulation 31, of the Water Supply (Water Quality) Regulations
Sprayed to desired thickness
Touch dry in seconds – fast return to service
Forms a waterproof/airtight seamless membrane
Resists most common chemicals
Prevents rust, corrosion and other forms of deterioration
Approved by the Secretary of State for use in public water supplies